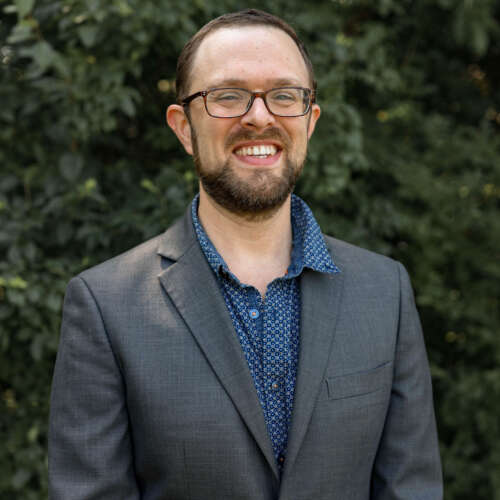 Rabbi Noah S. Ferro | Spiritual Leader
Rabbi Noah Ferro has been the spiritual leader of Northern Hills Synagogue since 2018.
Originally from Nashville, TN, Rabbi Ferro worked in bookstores and libraries throughout his college career, and he now finds being a rabbi a convenient excuse for continuing a longtime book addiction.
Rabbi Ferro grew up in a non-Jewish household and converted to Judaism as a young adult. He says that this experience is crucial to his core beliefs about what it means to be Jewish: "Judaism creates holiness through obligation. But in today's world, even obligation is a matter of choice: the choice to recognize it, or not to. Everything rests on the choice of the individual. We choose how we engage with Jewish ritual, thought, prayer, or text — or we choose not to. But without choice, life can have no meaning."
Rabbi Ferro is a 2017 ordinee of the Hebrew Union College-Jewish Institute of Religion, a parent and a spouse, and self-described "big nerd."
In his spare time, he studies foreign languages and rolls icosahedrons (IYKYK).
Rabbi Samantha Schapera | Program Director
Rabbi Sam Schapera is a native of Cleveland, Ohio and moved to Cincinnati in 2009 to attend the University of Cincinnati. After receiving bachelor's degrees in Judaic Studies and Women's, Gender, and Sexuality Studies, she worked as an STNA at Cedar Village. She moved to Jerusalem in 2014 to begin her rabbinic studies before moving back to Cincinnati in 2015. She was ordained in 2019.
Rabbi Schapera loves being with the community at NHS and sharing her passions for the Jewish community and chaplaincy. She lives in Montgomery with her husband, three children and cat.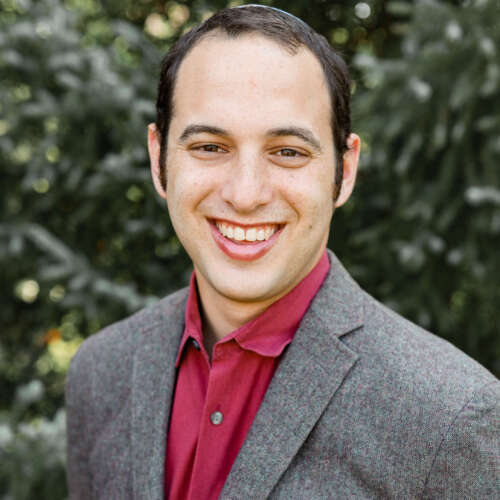 Rabbi Benjamin G. Azriel | Executive Director
Rabbi Benjamin Azriel serves as the Executive Director of NHS. He may be a huge Cubs fan from Chicago, but he has found Ohio to be his home in the last decade. Rabbi Azriel received his undergraduate degree from Ohio State University in economics and political science, and continued his career after OSU as a staff accountant for a small Columbus firm. It is in Columbus where he found his love for non-profit administration after transitioning into a role as the finance director of a local synagogue.
Rabbi Azriel moved to Jerusalem in 2015 and was ordained in 2020 from HUC-JIR. At NHS, Rabbi Azriel ensures all behind-the-scenes work is done to an excellent standard, manages NHS contracts and contractors, maintains our building, and keeps an eye on all things financial. Rabbi Azriel has a keen eye for the details and loves every minute of being at NHS and a part of this amazing team and community.
When he is not at NHS, Rabbi Azriel enjoys spending time in the garden and on his bike. His wife, Dr. Rachel Podell Azriel, works with University of Cincinnati Health and Cincinnati Children's Hospital and they love spending time traveling or out on the road with their dog, Wrigley.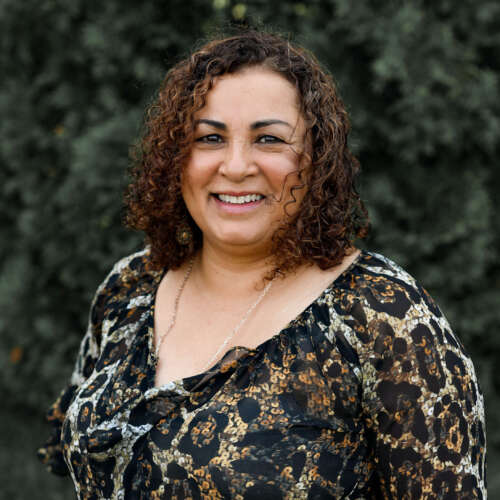 Idit Moss | Director of Education
Idit Moss has served as the NHS Director of Education since July 2020.  Idit was born and raised in Rehovot, Israel and has spent most of her adult life in Cincinnati. Her adult-age children, Karen and Daniel, continue to reside in Cincinnati. Idit holds a Bachelor of  Science in Education and Master of Educational Administration, and both were obtained from the University of Cincinnati.  She has received additional training from the Jewish Community Day School Network (RAVSAK) in the Tal Am Hebrew curriculum, Project Sulam, and Judaic Studies leadership training.  Idit has taught Hebrew and Judaic Studies at Rockwern Academy, CHDS and  Sycamore High School and is excited to bring her knowledge and Judaism and passion for Hebrew to the NHS families.    In her spare time Idit enjoys volunteering for the jeiwsh community, Israeli dancing, reading books and, most of all,  spending time with her family.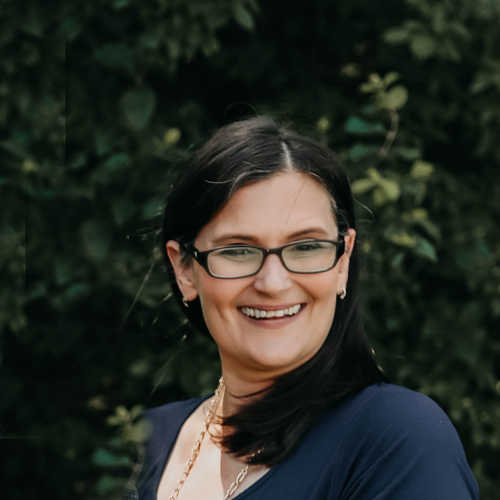 Cassondra Vick | Communications Manager
Cassondra is a Nashville native and librarian by trade who found herself running and marketing a small library-related nonprofit in Cincinnati, Ohio. She liked the communications work so much, she decided to make it the centerpiece of her career, though she will still recommend a book or two and say shh, when pressed. She has been working in the nonprofit world for her whole career and graduated with her Master's in Library and Information Science in 2015.
In her spare time she loves to bake challah and watch the Great British Baking Show with her 2 spirited children and her husband, Rabbi Ferro.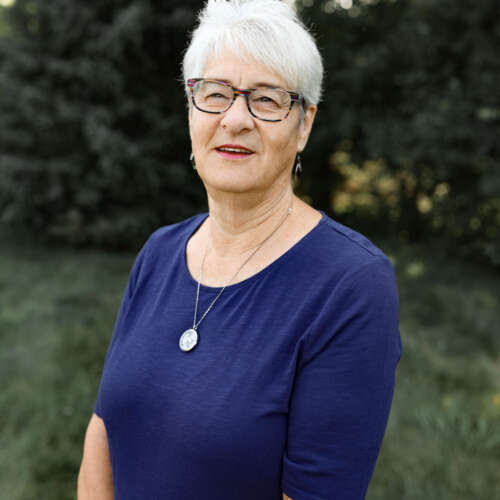 Sue Amster | NHS Teacher
My name is Susan Amster (Morah Sue), I live in Mason Ohio with my husband Vic. We moved to Cincinnati six and a half years ago to be near our children and grandchildren. I am currently beginning my 6th year teaching at Northern Hills Synagogue. I previously had been teaching religious school in Cleveland Ohio beginning in 1992. I very much enjoy working with our youth and instructing them in many areas of Jewish education. I especially love teaching Hebrew reading and comprehension as well as Tefilot and Parshot.  I am very happy to be working with the students at Northern Hills Synagogue.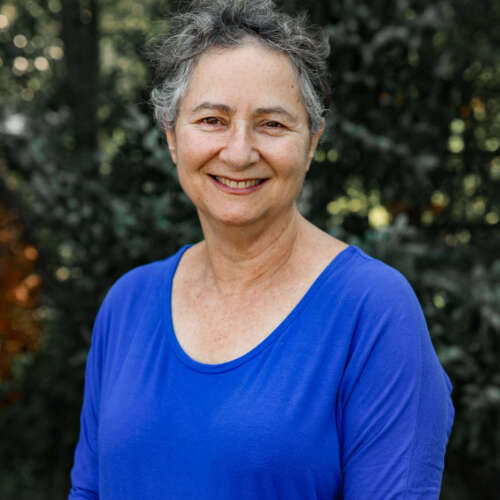 Israela Ginsburg | NHS Teacher
Coming soon!